All County Pavement Maintenance proudly provides the following services
Seal Coating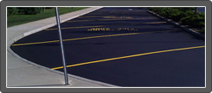 Seal Coating is one of the most important steps in the preventative maintenance plan. This simple periodic maintenance can double the life of your pavement and reduce the likelihood of larger repair issues, while providing a jet-black finish for your asphalt that will beautify your home or business. This simple, low-cost procedure can save you a significant amount of money in the long run by eliminating the need for more extensive and costly types of services.
Pavement Striping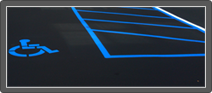 Striping is essential and important part of most paving projects. All County Pavment Maintenance uses top of the line striping equipment and paint on all jobs. We use Sherwin Williams Federal Specification paint, a fast drying latex product used on many parking lots, airports, and highways. The paint is applied using the Speeflo PowerLiner striping machine. The power liner is the tool of choice for all stalls, double yellow lines, stencils, etc. All County is capable of everything from simple Re-Stripes to new layout on fresh asphalt.
Crack Sealing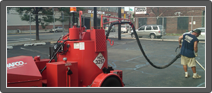 Neglected cracks allow water to penetrate the pavement surface and cause severe damage. The moisture softens the sub-base and traffic causes further damage. Once the deterioration begins, it is accelerated by freeze/thaw cycles. Before long, cracks left untreated become pot holes. All County utilizes Thermo-Sealants manufactured by Neyra Industries. They are formulated to perform in all climates and engineered to meet or exceed ASTM specifications. Crack sealing your parking lot today will save you costly repairs in the future.
Asphalt Repairs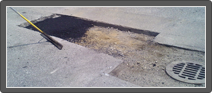 All County Pavement Maintenance provides professional asphalt repairs for you parking lot. The repairs are all done with Hot NYS top and are properly rolled and compacted. Call All County for a site visit so we can recommend one of the many options available to treat your asphalt.
Traffic Signage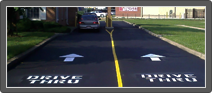 All County Pavement Maintenance can supply and install both parking and highway traffic signs. We can provide custom signs specific to your needs as well stock signs. These signs are available in both reflective and non-reflective surfaces. In addition, there are many mounting options available from galvanized to wood posts.
Sweeping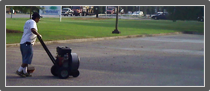 All County Pavement Maintenance provides power sweeping services for your parking area. Sweeping keeps your lot looking fresh and helps maintain sealer.